< Another year, another tax dollar spent unwisely on my behalf >
With the health budget blown out second only to welfare, it is good timing that the AMA is questioning the benefits of unlimited funding of IVF…so am I!
This slideshow requires JavaScript.
Medicare contributes about $5000 per cycle to recipient of IVF.  There is currently NO upper limit on age or recipients, or number of treatments received.  
The cost per successful IVF baby for women over 45 is about $200,000.
That is bad enough, but since there is only a 1-6% (fresh vs frozen embryo) success rate with women over 40… what are all the ultimately unsuccessful treatments costing taxpayers on top of this?
! The only eggs that are guaranteed to grow fertile are the nest eggs of IVF providers !
Henry Rollins was on The Project (5/9/16) discussing this, and his take on it was…
"It's a lot of money, but when you see the kid's happy, the mum's happy…I think it's worth it… you can't put a price on that….".
What?!
Yes you bloody well can!! I can think of five thousand better uses for my tax money.
Number 1/5000: The Environment, perhaps?!  How is it that something that affects us all, present and future, is the LOWEST funded of all categories?!
In the same show, following a story about dissent within the Climate Change Authority, Mr Rollins waved his environmental (black) flag…
Henry Rollins, The Project:

Last year I spent two weeks on a scientific research boat at the edge of Antarctic Peninsula.  I would listen to lectures from Bob, the geologist, and he had nothing but bad news about what we are doing to the planet, and what's up ahead.  I asked him "What is it, as a citizen, that I am not getting?"

And he said "You're not getting how bad this really is.  It's no joke, you're getting this soft story.  The reality is way more harsh."
Umm…
Mr Rollins is a switched on bloke…surely he can see that adding more people at any cost to this already creaking planet via a listing public health system is not a responsible idea?
Was it oxytocin talking?
And this my friends, is why were are in trouble.
We have the knowledge, but not the will to act on it. The sugar rush we get from doing things that make us feel good, but that harm the planet (and ourselves!) is just too strong.
We believe we can have it all, while giving up nothing.
And this suits the guys at the top of the perch just fine.
We are just believing what we are told to. 
We are attentive students in a system which lionises pathological consumers, while social activists are either laughed at…or treated as dissidents.
…Why? 'Money' buys 'democracy', so money wins 🙂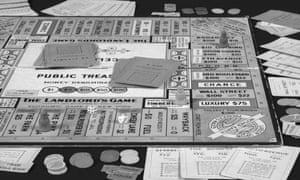 Did you know that the board game we call Monopoly was first created by a lady, Elizabeth Magie as statement AGAINST monopolies?
The spy who loved me
http://www.smh.com.au/good-weekend/helen-steel-and-john-dines-the-spy-who-loved-me-20160318-gnltdv.html
In the early 1990s, Helen Steel was a member of a British social justice group called London Greenpeace when she began a relationship with a man she knew as John Barker. They were together for more than two years and he told her he wanted to spend the rest of his life with her. Then one day he disappeared. A letter arrived for her a few days later. "If I manage to sort my head out, I will be back," he wrote.
She was both devastated and concerned about her partner's emotional state and would spend much of the next decade looking for him. That was before she made a series of shocking discoveries: his real name, John Dines, a record of his marriage, and the death certificate of a child, Philip John Barker, whose identity he had assumed. But it was not until 2010 that she got confirmation her lover had been an undercover police officer employed as part of a secret London Metropolitan Police project to infiltrate protest groups.
Helen Steel wasn't the only woman who found herself in this situation. Essentially, this is what happened to at least seven other British women who were lured into relationships with undercover police officers over the course of 25 years.
Undercover: The True Story of Britain's Secret Police is a book that details the infiltration of political activist groups in the U.K.  
Award winning director/writer, Franny Armstrong is working on a four part mini series about it called Undercovers.  She also made Mclibel, which was also about Helen Steel.  At the time they were unaware of the police spies in their midst.
This is another great documentary of hers>
https://en.wikipedia.org/wiki/The_Age_of_Stupid.
You can watch it here.
She didn't make Cowspiracy, other people did that. If you haven't seen it yet, you should.
_______________________________________________________________

Mission
A.U.M. (Animals United Movement) Films and Media's mission is to effectively and efficiently represent a harmonious voice for all life on this planet, through all forms of media. We create, consult, and support all types of media projects, from film, journalism, online outlets, to music and stage plays, that spread a creative message for peace and compassion for all beings. We take on project submissions and ideas that will have a direct result in promoting the next stage in human evolution. We feel the best way to actualise world peace and to make our planet survive, and even thrive, is through a movement towards compassionate co-existence.
Our first major film production is titled Cowspiracy: The Sustainability Secret and was premiered in late 2014. This documentary uncovers the most destructive industry facing the planet today – and investigates why the world's leading environmental organisations are too afraid to talk about it. You can learn more about the film at www.cowspiracy.com
We are currently working on another feature length documentary called WHAT THE HEALTH, set to be released in 2016. This film uncovers the impacts of highly processed industrial animal foods on our personal health and  greater community, and explores why leading health organisations continue to promote the industry despite countless medical studies and research showing deleterious effects of these products on our health.
Yes, Mr Rollins, we really are ruinous pains in the asses.
It's only oxytocin that makes us forget it!
(We seem to forget that animals also produce oxytocin, which bonds them to their young, just  the same as us.  We forcibly impregnate them then steal their children.  How is this fair?  When people become attached to the idea of having their own children they should spare a thought for those that we treat as nothing more than baby making machines.)